Netsys Production Scheduling System by Erp Factory Soft Co., Ltd.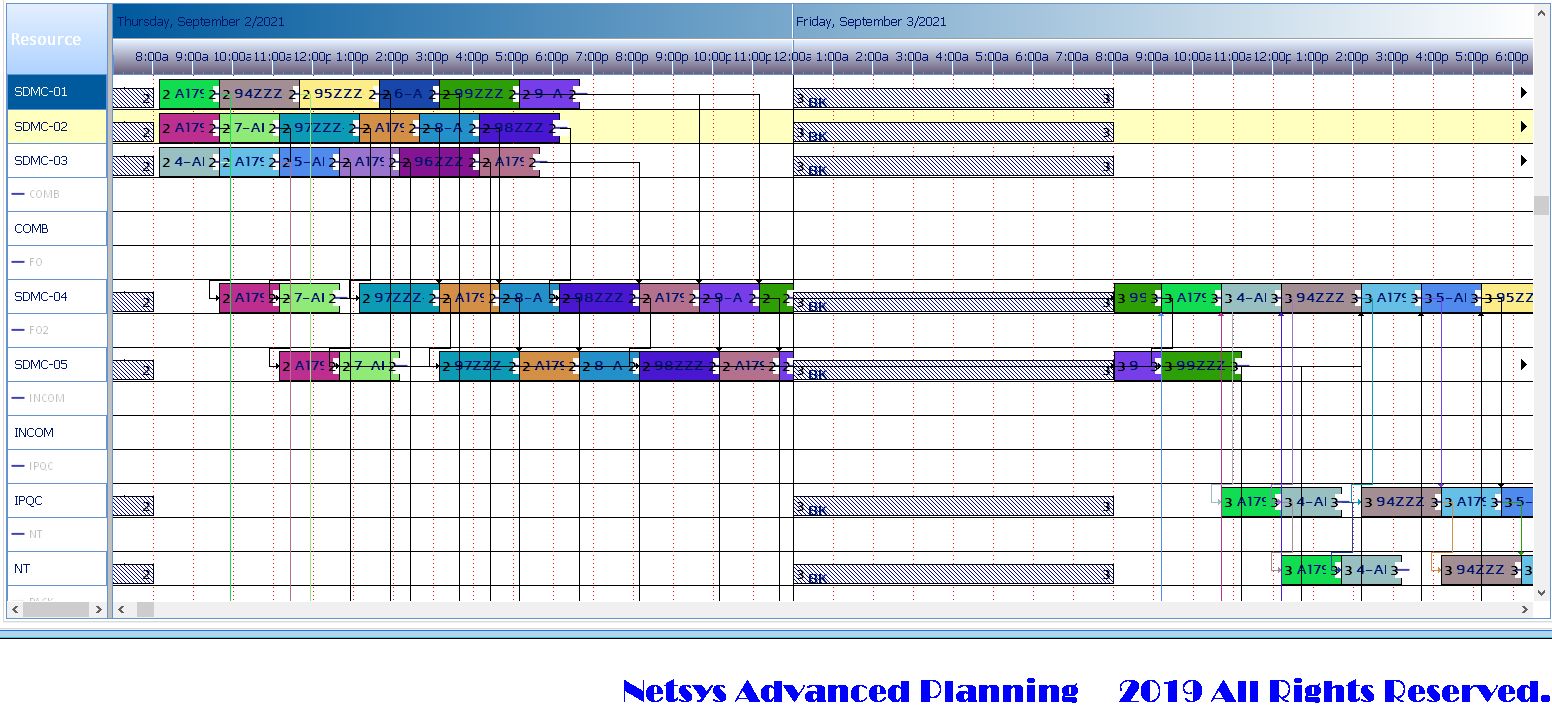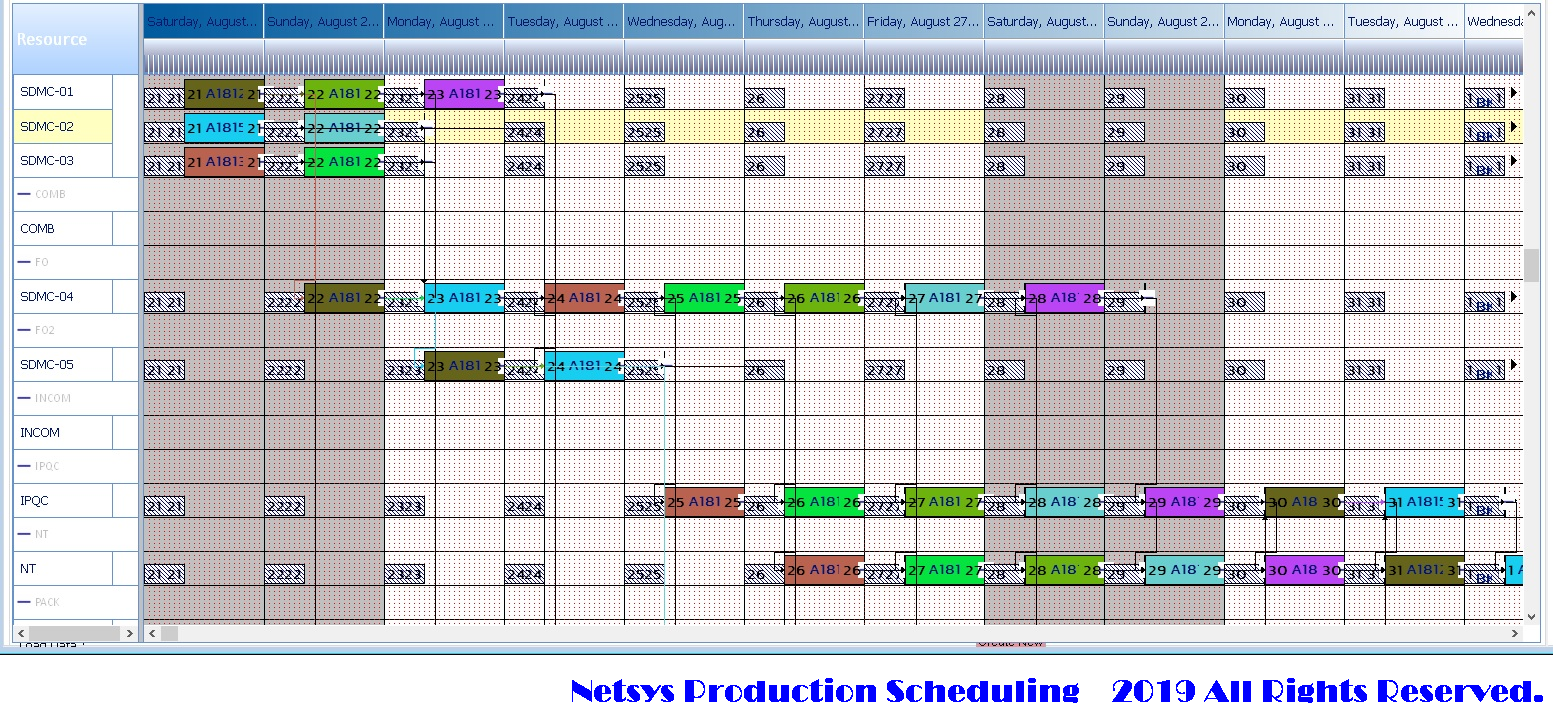 Netsys Production Scheduling is a graphical software system for industrial plant production planning and scheduling (Production Scheduling, Advance Planning), both discrete and continuous processes

Netsys Production Scheduling is a graphical production scheduling software intended for production planners (Planners) to be used as a tool for scheduling complex production tasks (Order, Work Order) to goods (F/G) or work-in-process (WIP ) during each step (Work in Process) suitable for every machine. In every process automatically In addition, the planner can also adjust the plan by itself as appropriate on the job page (Drag & Drop and Auto Planning Adjustment) by Drag & Drop, such as inserting urgent tasks or others. Immediately adjust the production plan of every machine to be accurate and efficient.
As a result, the organization is able to optimize the use of machinery and production time with the highest efficiency. The shortest working time Delivering products to customers in a timely and efficient manner in every order (Optimize and Line Balance Scheduling Software)
Some examples of features
1. Create a production scheduling plan to suit the machines in each item code of work in process or automatic products.
2. "What-If Analyses" and a Drag-and-Drop interface when the planner wants to adjust the plan to meet the needs of the job site, for example, the sales department requests to speed up some or multiple orders. Let them produce first to send it to customers urgently.

Or the situation of sudden machine breakdown (Machine Break down), or a plan to stop the machine for maintenance (Machine Preventive Plan) and others, planners can capture the task that needs to be dragged to the desired new position immediately (Drag & Drop). The software will automatically adjust the entire system plan immediately (Automatic Scheduling Plan Adjustment).

3. Capable of planning in a variety of ways, including first-come, first-served (FCFS), deadline first come, first served (EDD), shortest production time first (SPT), highest value first come first... and so on. Either Backward or Forward Scheduling

4. Planning and organizing the production schedule by minimizing set-up time (Minimize Setup Time)

5. Comparison of Multi Scheduling Plan

6. Production planning based on Priority Job... and others

7. Production scheduling system of industrial factories that are continuous industrial, such as pharmaceuticals, beverages, packaging, etc., which have criteria, limitations, and features of production schedule by design. Discrete, for example, planning under contaminant limits. Reducing set-up time, etc.
Netsys Production Scheduling ( Advanced Planning ) โปรแกรมการจัดตารางการผลิตของโรงงานอุตสาหกรรมทุกประเภท ( Flow Shop, Job Shop )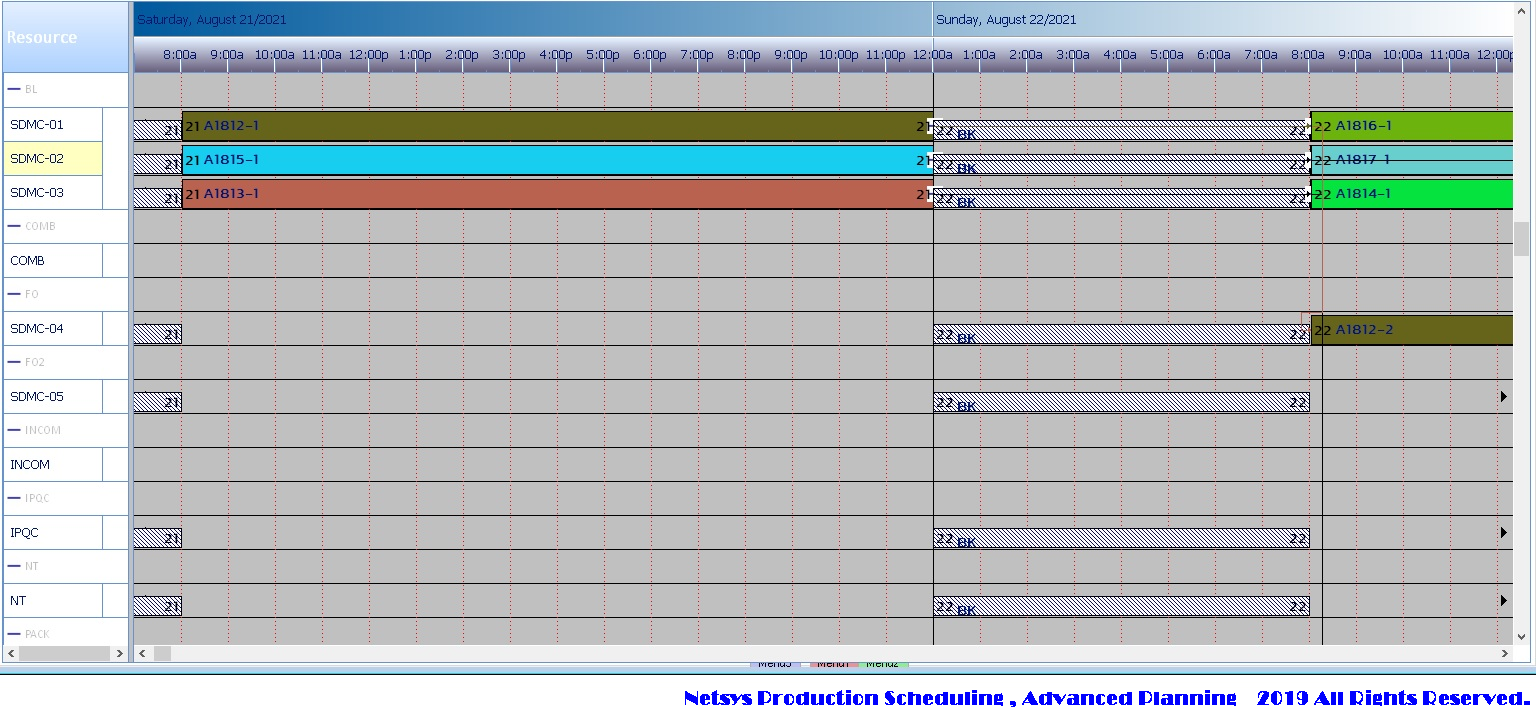 Production Scheduling, Advanced Planning in Hours View Mode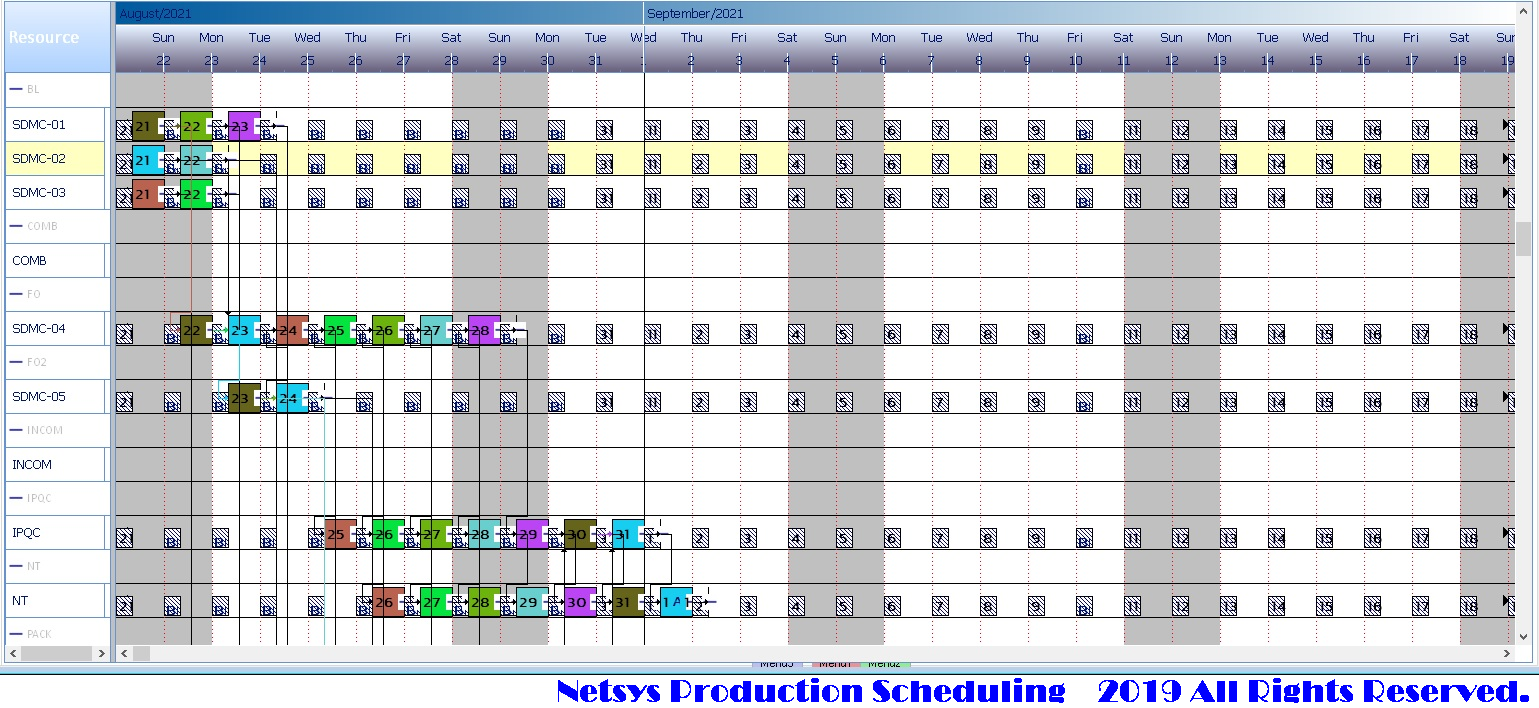 Production Scheduling, Advanced Planning in Days View Mode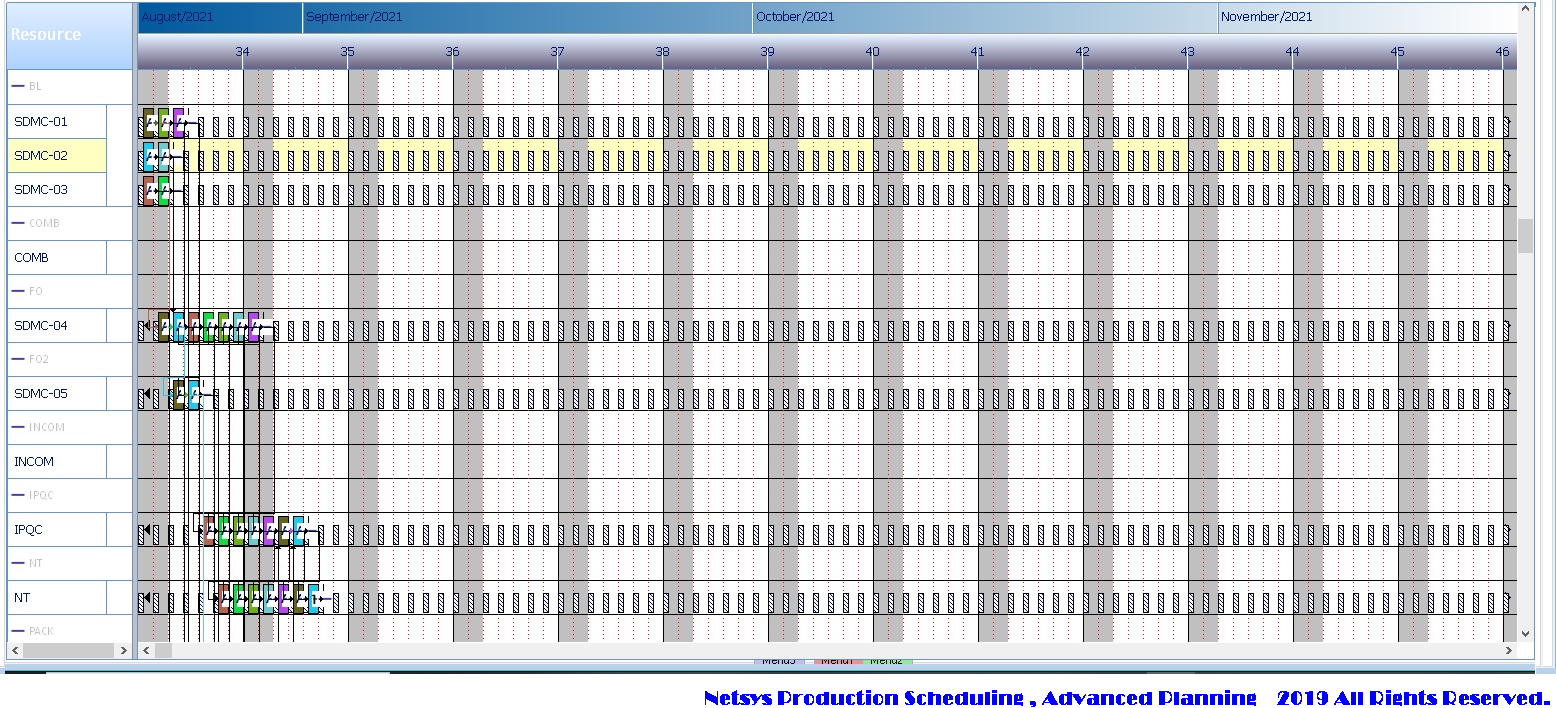 Production Scheduling, Advanced Planning in Weeks View Mode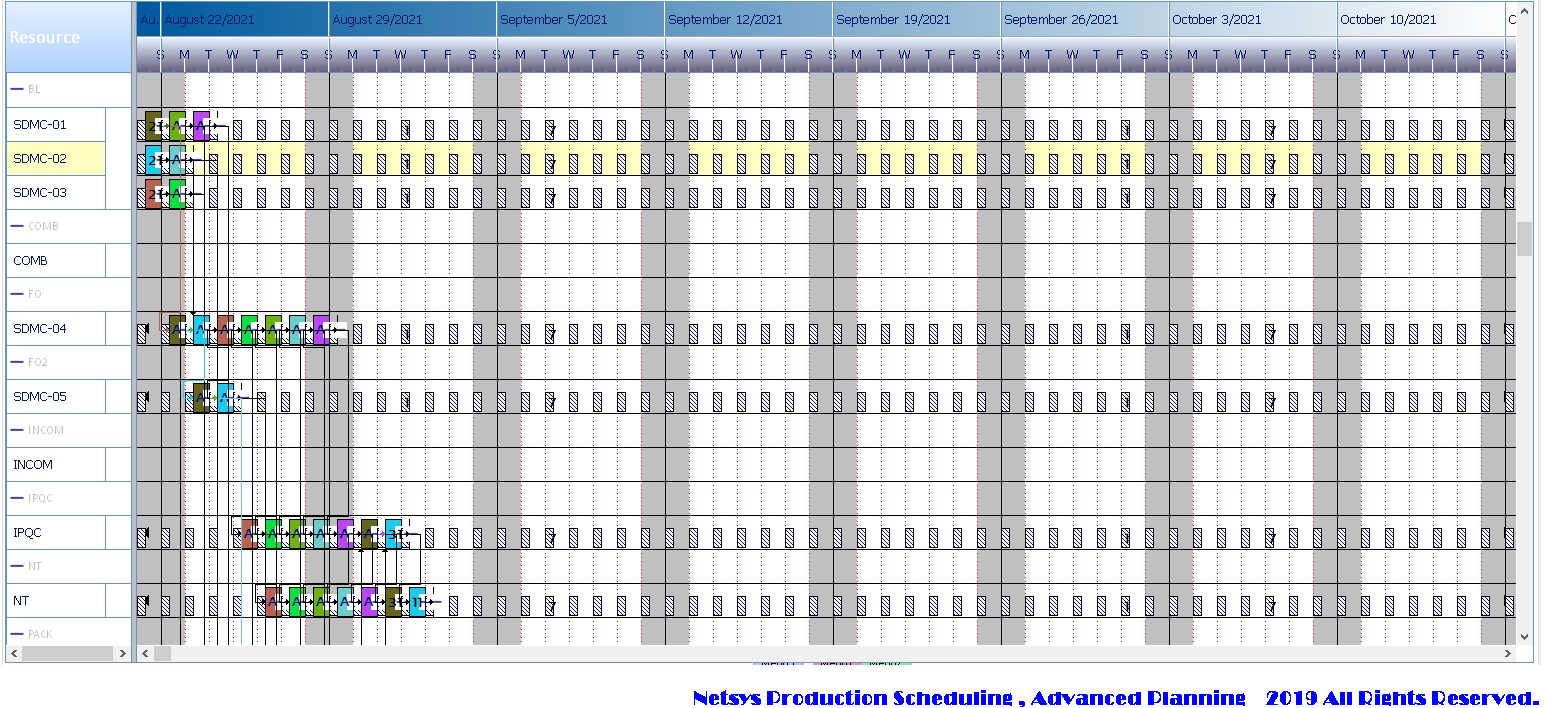 Production Scheduling, Advanced Planning in Months View Mode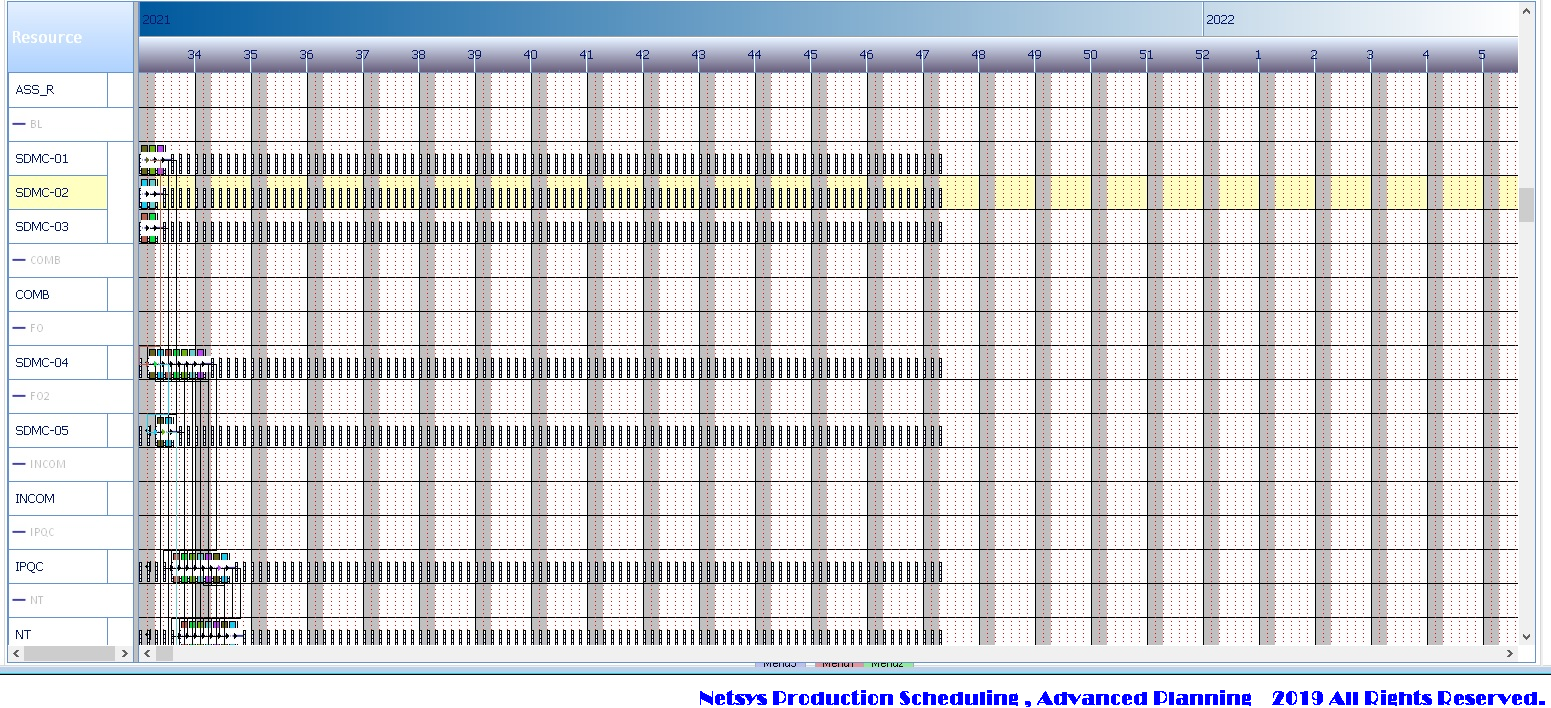 Production Scheduling, Advanced Planning in Years View Mode